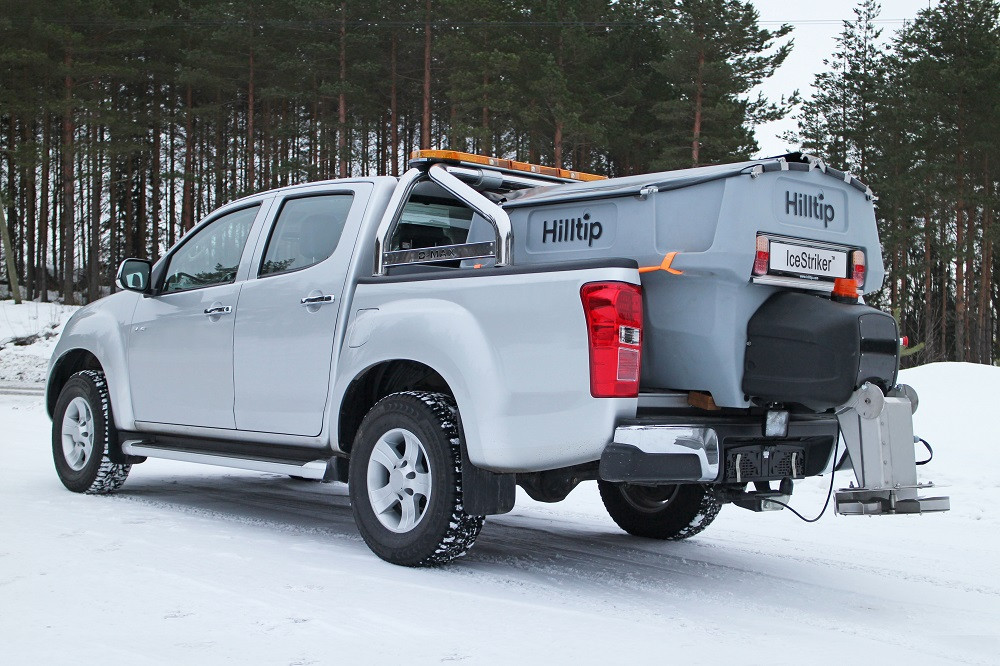 Peacock Salt are proud to introduce the Hilltip Icestriker Spreader to the UK.
Designed and manufactured in Finland to combat the worst of Nordic winter conditions, the Hilltip Icestriker delivers a Combi spreader and sprayer to the pickup market. Granular, Pre-wet and Direct Liquid applications are all possible with the one spreader, maximising your potential for reduced treatment costs, reduced environmental impact and increased operational efficiencies. And in the summer months you can put the spreader to good use, spreading and spraying fertiliser, applying dust suppression liquids and other grounds maintenance activities, ensuring a year-round return on your investment.
And true to Finnish form, the highly competent in-cab controller offers precision electronics to ensure you have optimal control over the complete functionality of the spreader. It allows simple regulation of granular and liquid dispense rates, spreading and spraying widths, and provides other operational feedback, all from the comfort of your heated (or air conditioned) cab.
View product and watch our video here:
Contact Peacock Salt today for a demonstration of this true innovation in grounds maintenance.
Combination spreader and sprayer
GPS speed related de-icer distribution
Market leading in-cab controller
Designed for European spec vehicles
Increased efficiency treatments
Environmental and cost savings